Marie Javorkova - Painter
WELCOME TO MY PAGE
Marie Javorkova
Marie Javorkova is a Czech painter, sculptor, illustrator and author magazine of Renome. The founder of the fusionism. Her artwork Venus, Butterfly, Girl, In Heart, Sky, etc. has been officially recorded in the National Registry of Australian Art and Artists with the National Registration Number. She studied under Professor Karel Rusin VUT
foundry, sculpture and with more Professors at the Prague Academy of Art.
She uses many different styles - cubism, realism, fauvism etc., mediums
paintings - oil, acrylic colors, mixed media, etc., mediums sculptures -
bronze etc. and more techniques. A member of the WAF - USA Jojo Marengo,
her works has featured on a more nationals gallery and private gallery
/USA, England, Germany, France, Swiss, Czech Republic, Slovakia, Slovenia,
Croatia, Italy, Spain, Russia, Ukraine, Japan, China, JAR, Austalia, Mexico,
Argentina, etc. Michael Jackson was friend with Marie Javorkova.
Thank you for visit.
Marie Javorkova se věnuje malování již od dětství. Vystudovala SPŠ Slévárenskou, kde se intenzívně zaměřila na umělecké lití, poté Vysoké učeni technické u prof. Rusína se zaměřením na materiálové inženýrství a slévárenství a též umělecké lití, dále studovala postgraduální doktorandské studium a vzdělávala se u mnoha akademických malířů. Dále studovala Private Art School. Jejími rádci byli především její otec, její teta Emanuela Nohejlová-Prátová, profesorka Karlovy University - přední česká numismatička, historička, kunsthistorička. Její strýc akademik Silvestr Prát, děkan Karlovy University. Vyrůstala v uměleckém prostředí a vyučovalo ji již od dětství spousta známých malířů. Její díla si můžete, mimo jiné, prohlédnout v galerii Saatchi Londýn.

Od roku 1994 se profesionálně věnuje sochařství, malování, grafice, designu, ilustracím, reklamě a marketingu. V roce 1994 se rovněž podílela na založení prestižních novin Real Spektrum, byla jejich prvni a nejmladší šefredaktorkou. V roce 1996 Marie Javorková vydává vlastní časopis Renomé. Tento časopis byl reg.a povolen MK. Časopis z velké části graficky zpracovávala a ilustrovala. Byl distribuovám mimo jiné i PNS /tento časopis je k nahlédnutí v knihovnách/. V letech 2006, 2007, 2008 publikuje články a obrázky v Deníku a Šípu. Od roku 1996 ji pojilo letité úzké přátelství s Michaelem Jacksonem.

Jeji obrazy jsou v různých galeriích ve světě - USA, Slovensko, Švýcarsko, Německo, Anglie, Itálie, Španělsko, Rusko, Holandsko, Čína atd.
Marie Javorkova Beautiful memory
Michael Jackson, Howard McCrary, Michael Lee Bush
Great idea: Together with love, nothing is impossible - Howard McCrary
Vernissage 18.6.2020 Brno - FUN CLUB
Vernissage 4.12.2019 Brno - FUN CLUB
Wien 9.10.2016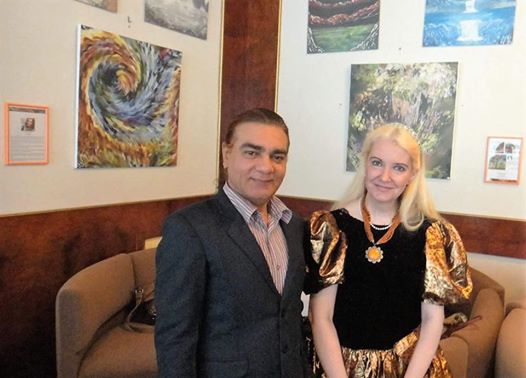 Vernissage Marie Javorkova & Sri Vijan 10.10.2016 Brno
Vernissage 10.7.2015 Brno - Zemanova kavárna
Marie Javorkova for Iveta Bartošová
News
Marie Javorková: My friend Michael Jackson Forthcoming book describing friendship
Read more
Ing. Marie Javorková, se sídlem ul. Lužná 278/20, 617 00 Brno IČ 48517178, zapsaná v živnostenském rejstříku.